Welcome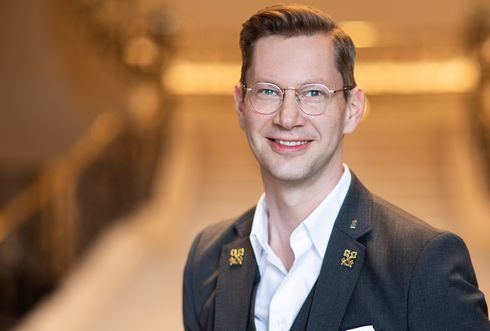 to "Die Goldenen Schlüssel" (The Golden Keys) – Germany's only professional association of hotel concierges in the luxury hotel business.
Numbering 180 active and 70 passive members, we live and work throughout the whole of Germany, pursuing our vocation:
providing a cordial and, above all, very personal and competent service to national and international travellers.
We see ourselves as hosts who are always in tune with the times. Whatever happens in our city – new bars and restaurants opening, the private grand opening of a store, the latest club events, exhibitions and concerts – we are always the first to hear about it. Meaning that we can provide exact information about the event and also get first choice when it comes to obtaining tickets. But that's by far not everything we have to offer. It goes without saying that we can also charter a private aircraft in the space of a few hours, arrange for a luxury department store to open late in the evening, have letters delivered in person to the other end of the world or get hold of a really special handbag with that favourite label, despite actually no longer being available. Which almost sounds like a cross between James Bond and David Copperfield, don't you think? No wonder we are constantly asked how we manage to do it – namely, make the impossible happen.
The answer is obvious: our network is our key to success. After all, "Die Goldenen Schlüssel" concierges are engaged in continuous exchange, providing advice and support to one another. Thanks to state-of-the-art communications, this can be done quickly and effectively. At the same time, we are committed to maintaining traditional virtues, always serving our guests and partners with sincerity, respect and honesty, which we consider the only way to establish long-term relations. In addition, we leverage the knowledge of each individual member, enabling us to improve our skills as a group and to identify new talents in our industry.
In a nutshell: "Die Goldenen Schlüssel" is a professional association of people who pursue the same aim, working hand in hand together. Namely, "In Service through Friendship".
Our President
Thomas Munko, born 1976 in Berlin, married and father of one daughter. After having trained to become a specialist in the hotel industry and having spent a year abroad in Orlando, he embarked on his career as a concierge at The Regent Schlosshotel, where he became acting concierge in 2002. In 2004, he changed to the newly opened The Ritz-Carlton, Berlin, where he took on the role of concierge. Just one year later, he was promoted to the position of Chief Concierge, and joined "Die Goldenen Schlüssel". In 2006, he advanced to Deputy Head of the Berlin-Brandenburg Section. He was nominated Vice President by the members of the association in 2010. Thomas Munko has been Interim President of "Die Goldenen Schlüssel" since 2013. In addition to his employment at The Ritz-Carlton, Berlin, he has also acted as a trainer for a number of hotel openings in the past ten years, such as in Dubai, Muscat, Riyadh, Vienna, Abu Dhabi and Tel Aviv. On top of that, he was nominated "European Concierge of the Year" by the British trade journal "Hotel Management International" in 2010.