Amedeo Musto D'Amore - Vier Jahreszeiten Hamburg - Concierge of the year 2018
Amedeo Musto D'Amore received publisher Busche's award "Concierge of the year 2018" on 16th of October 2017 in Munich.
The passionate concierge is working at the "Fairmont Hotel Vier Jahreszeiten" for 40 years now. "One of my best experiences was a personal Christmas card I received from the last King of Italy Umberto de Saboya. He was my guest in Hamburg and obviously enjoyed his stay in Hamburg" D'Amore says. As a Les Clefs D'Or member Amedeo takes care of his guest's needs from A-Z and is not giving up until the last wish is fulfilled. His passion for hospitality discovered the Sicily-born in the seventies with a holiday job in a luxury hotel in Taormina. D'Amores helpfulness led to a job offer from Hotel Vier Jahreszeiten and he stayed at the Alster. Hamburg, his guests and the hotel are his second family. "The award "Concierge of the Year" is a great honor and also appreciation for having done a good job in the past years. An advice for young colleagues is not to look at their watches while working. "You will not get rich, but you will meet interesting people and will have good conversations. With a mentality of a public officer you will not get far. Being a Concierge is like being on a mission that is not over until your guest is happy.
Very warm congrats from the Golden Keys Germany to Amedeo Musto D'Amore to this very well deserved award!
Stephan Mehlhorn – Regent Berlin – Concierge of the year 2017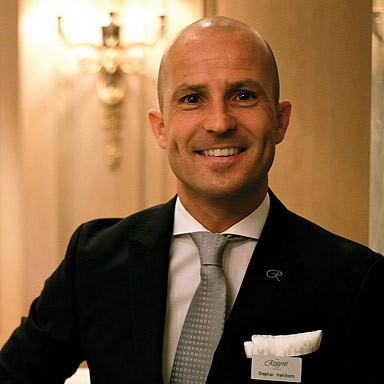 At first it was just a job for Stephan Mehlhorn. To bridge his time to his studies he has worked as a carter at the Hotel Park Hyatt Hamburg for three month. That was the time when he decided to be a concierge at a 5-Star-Hotel. He quit his studies immediately and started working as a Front Office Agent at the reception desk at the Park Hyatt. Within two years, he achieved his goal of becoming a concierge.
The personal interaction with the guests and the sometimes daily new challenges still make him so much fun that he does not want to rethink his decision of being a concierge as his profession.
Stephan Mehlhorn is a member of the Golden Keys, Les Clefs d´Or since 2004. This is how he built a wide network which helps him to make his guests wishes happen in incomparable ways. For example, during the 2006 FIFA World Cup, Brazilians were so appreciative of their service that they claimed him two years later and asked him to get tickets for the Beijing 2008 Olympic Games. They just wanted to be on the safe side and of course he could make it happen. For the guests of Regent Berlin, Stephan Mehlhorn has a special offer: Sight jogging with the concierge. On request, he goes jogging with the guests and shows them the most beautiful running routes of the city. Anyone with a passion for life, competence and sovereignty who performs his or her profession, and even makes the impossible possible with great passion, will be honoured by the Schlummer Atlas editorial team with the "Concierge of the Year" award!
Celebrations of the year 2015 - Congratulation
10 years
Stefan Ziemus, Michael Beck, Johannes Bannert, Christian Geßlein, David Lemos-Sanchez, Elke Pflug, Kevin Baboo
15 years
Jörn Zimdahl, Peter Zahn, Alexander Baruth, Nadja Schünemann
20 years
Massimo Francucci, Roland Würzbach, Maik Jenke, Velando De Sanctis, Frank Biedermann
25 Jahre
Michele Schinella, Dieter Klein, Heinrich Hutterer
30 years
Domenico Zoccali, Raffaele Sorrentino, Gaspare Marchese, Max Flierler
35 years
Enzo Di Iorio und Giuseppe Indracolo
40 years
Ralf Räther und Felix Rodriguez
45 years
Walter Scharf und Anselm Magel